After the spooky capers of Borderlands 3's Halloween event, it's time for the first piece of full DLC: Moxxi's Heist of the Handsome Jackpot. In this chunky drop of story content, your Vault Hunter will team up with Moxxi and co to crack an old Hyperion-owned casino vault and take your share of the spoils.
As well as new playable loot, you'll be able to get your hands on new customisation items for your character. We're talking heads, skins, ECHO devices, and trinkets to go along with the array of unique legendary weapons on offer.
The goodies aren't going to come easy though. Handsome Jack had a bit of a thing for giant killer robots, so expect some fresh takes on Borderlands 2 bad guys mixed in with the unseen additions.
Moxxi's Heist of the Handsome Jackpot DLC is part of the Borderlands 3 Season Pass – which you have to purchase as a separate product on your chosen storefront. It is included in the deluxe versions of Borderlands 3, however.
You can also grab it as a standalone for $14.99 or your regional equivalent:
You can pick it up as part of the Season Pass or it will be available for $14.99 separately.

— Borderlands 3 (@Borderlands) December 18, 2019
Borderlands 3 Moxxi's Heist on the Handsome Jackpot release time
Eager Vault Hunters can start planning their Heist from 5PM GMT on December 19.
This is 12PM Eastern, 9AM Pacific, 6PM CEST, and 4AM Friday in Australia.
"Moxxi's Heist of the Handsome Jackpot" releases for #Borderlands3 tomorrow, Dec 19, at 9am PT / 5pm GMT! Check out our Let's Play from The Borderlands Show earlier today!
➜ https://t.co/pnZgqBebDi pic.twitter.com/M9EONI7Sq9

— Borderlands 3 (@Borderlands) December 18, 2019
How to start Moxxi's Heist of the Handsome Jackpot DLC
To begin this new slice of adventure, you need to have played enough of the game to reach the Sanctuary for the first time.
The required level of the quests scales with your character's level, so you can access the DLC at any point during, or after, the main campaign.
On Sanctuary, go to the front of Moxxi's bar and look to your left. There's a quest starter sign here about the DLC.
Before the release time, or if you don't already own the expansion, this sign directs you to the purchase page for the DLC, so you will have to download it separately from your chosen store regardless of whether you've already bought the Season Pass.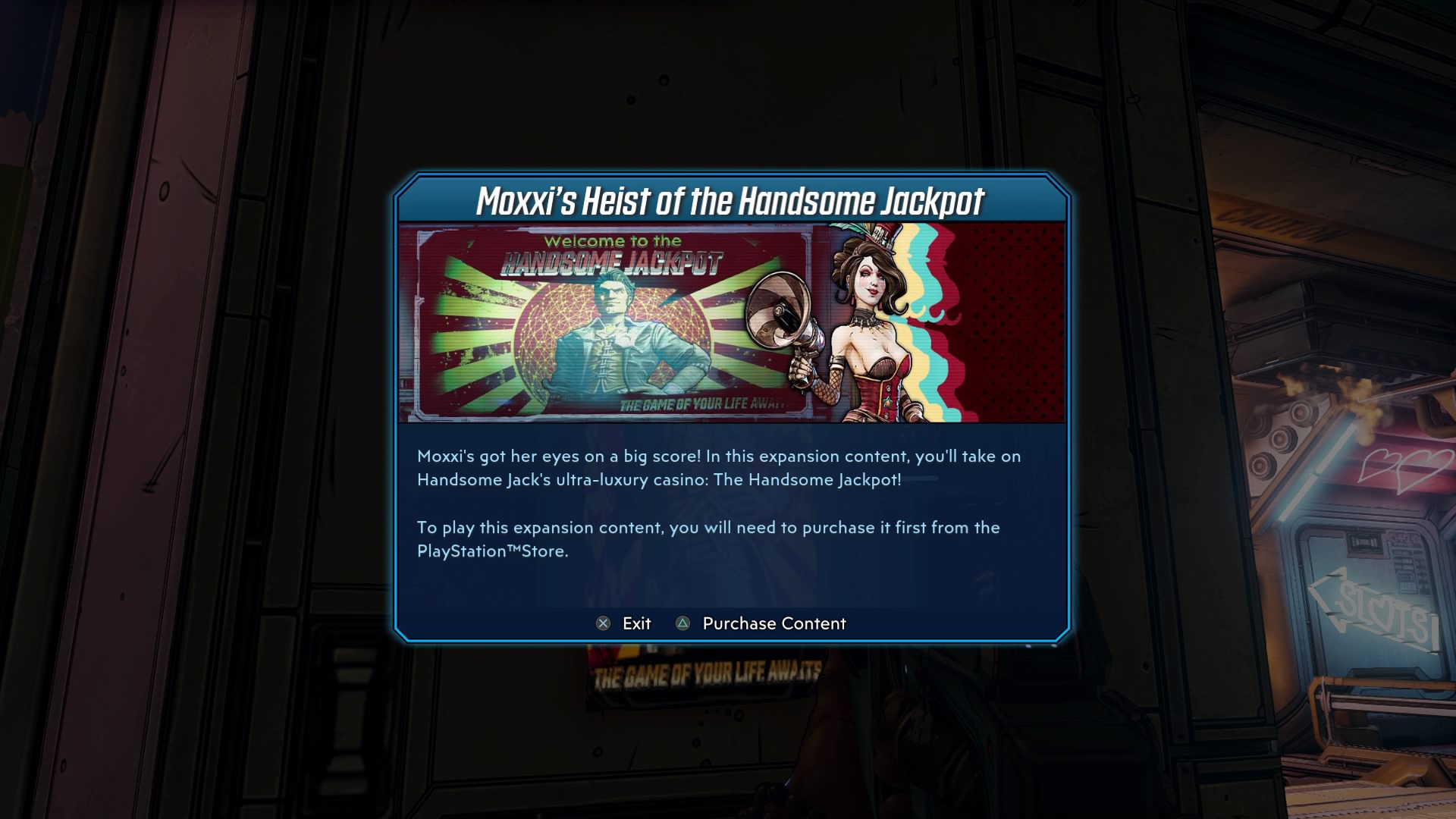 Search for Borderlands 3 on your store, navigate to the add-ons section and download the Moxxi's Heist DLC.
You'll then be able to restart your game and return to Moxxi's bar.
Moxxi's Heist Borderlands 3 DLC PS4 Season Pass bug
It currently looks like there's a bug on PS4 where players are still being asked to pay for the DLC even when they own the Season Pass. We'll update this page if there's a fix, but you can also check with Borderlands 3 on Twitter, as well as Gearbox CEO Randy Pitchford.
We are investigating reports that some Season Pass holders on PS4 are encountering issues downloading the "Moxxi's Heist" DLC. We appreciate your patience as we work to quickly investigate and address this.

— Borderlands 3 (@Borderlands) December 19, 2019
The official account has now started replying to tweets saying they're looking into it, so there should be some news soon.
Apparently the problem is now resolved, and you should be able to download the separate DLC product listing now.
This situation has been resolved. PS4 Season Pass holders should now be able to download the "Moxxi's Heist" DLC. If you were affected, please try downloading again, and if you continue experiencing issues please contact https://t.co/DlLIgC7cmG. Thank you again for your patience!

— Borderlands 3 (@Borderlands) December 19, 2019
Looking for a new character build to run through the Moxxi's Heist of the Handsome Jackpot DLC? Here are some of our best Borderlands 3 character builds to try out.
Also, check out the rest of our Borderlands 3 guide for the most overpowered equipment, funniest easter eggs, and everything else you need.