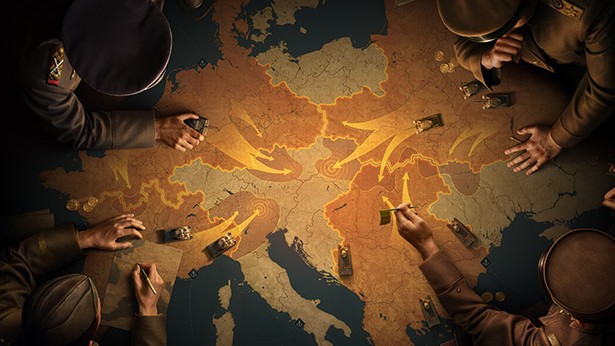 Main Features
With this Season, we will stick with the traditional 15 v 15 format for Tier X and 10 v 10 on the Tier VIII front.
Firefly Provinces:
Tier VIII:
Firefly provinces will again consist of 1 small group of 3 adjacent provinces per time zone and they will move every week on Monday.
Tier X: A new concept—train and train stations by the Czech player Svitman
Train: A train with a length of 4 provinces will be moving between the bigger cities on the Global Map. Provinces with a train on it will have increased income.
Train stations: Every weekend, the train will stop at a train station. This boosts additional provinces around the station with extra income.
Community Idea from the German player Anostra:
Rarely used maps will be played on special provinces
Players will fight on the location (map) that they are fighting for, e.g. the Studzianki map to capture the Studzianki province, the Lakeville map to capture the Zurich province, win the DDay Landing on Overlord to capture the Le Havre province, etc.
List of special provinces: Studzianki, Kharkov, Paris, Pilsen, Zurich, Minsk, Madrid, Le Havre
General Rules
Season Dates, Days Off
Season 14 runs from 25 March at 09:00 CET (UTC+1) through 15 June at 10:00 CEST (UTC+2).
On 29 March, the time changes to CEST, but don't worry, the Prime Times will be adjusted accordingly too, so you don't need to change anything on your side.
Before: 18:00–21:00 UTC (19:00–22:00 CET)
From 29 March: 17:00–20:00 UTC (19:00–22:00 CEST)
Battlefield
Regular, auction, and landing provinces will be available on the Global Map.
The battlefield is divided into zones with various levels of income, including provinces with no income.
There will be a total of 675 provinces (375 at Tier X and 300 at Tier VIII) on the map, of which ~15% are landing and ~5% are auction provinces for Tier X. For Tier VIII, ~25% are landing and ~5% are auction provinces.