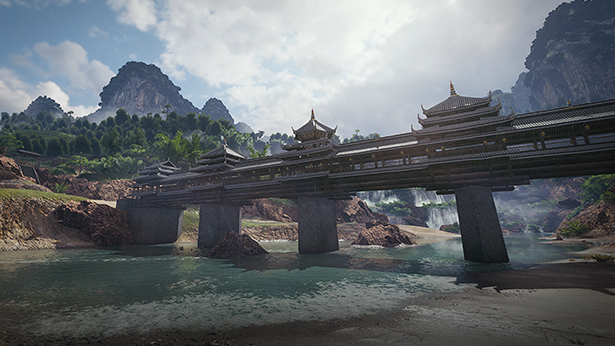 The Beauty of Nature 
This 1000×1000-meter summer map was inspired by the beautiful scenery of Southern China's Yangshuo county. The map's current climate is now much warmer and more tropical compared to the previous version.
We wanted to give players the opportunity to battle in one of China's most picturesque corners while also preserving the nostalgic hallmarks of the old map: the bridge, the traditional Chinese temple complex, and the instantly recognizable watermills. All these landmarks were recreated from scratch.
Driving through this scenic locale will allow you to witness the wonders of nature:
A bamboo grove 

Luscious rice terraces

A magnificent waterfall home to regal water birds

A verdant grotto covered in vines

The karst hills that are so famous in the region that they're even depicted on China's 20 yuan banknote
Specially for the revamped map, we recreated the unique vegetation typical for the region. Bamboo thickets, osmanthus, lianas, and many other species of plant previously not in the game can be found at Pearl River.
To make the location more authentic, we've introduced over 20 small environmental objects, such as stone lanterns, bamboo rafts, and many more.
Special attention was given to the glistening, majestic waterfall whose rippling waters will surely capture your imagination. And, of course, there's the Pearl River itself, whose emerald water flows across the entire map. 
We reworked this map in full HD. Just take a look at how much Pearl River has changed and how stunning it's become!